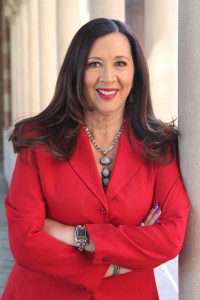 Cynthia M. Ruiz – Lion Mother (Cherokee Name) is a Award wining Professor, Best selling Author, Commissioner,  Leadership expert, an Executive Coach and Personal Development Speaker.
Receiving over 78 accolades and awards for her leadership and service to the community. She currently serves as the President of the LA City multibillion-dollar pension fund.
She was named a  Latina Influencer by Hispanic Lifestyle Magazine.
In 2021 She received the esteemed 7 Feathers Award from the Cherokee Phoenix and in 2019 she received the Cherokee National Community Leadership Award. Cynthia has also received the prestigious Hollywood Chamber "Women of Distinction Award, the HOPE "Ray of Hope" award and the Weingart, "Women Building LA Award. She was awarded the "President's Award for Outstanding Professor in the Business School at UWLA in 2017. Twice the California Apparel News has listed her on their renowned List of Influential People and LA Weekly showcased her in their people edition.
Cynthia holds a Masters of Science Degree in Counseling and has completed a Leadership Course at Harvard University, John F Kennedy School of Government.
Coming from blended cultures (Latina and Native American), she enjoys a passion for life and an appreciation of the gifts of Mother Nature.
As a Leadership Expert and a Latina Influencer her passion is teaching others to rise to their power. Her Cherokee values have inspired her to share lessons she has learned from her ancestors.
Cynthia's Mission statement: Be a beneficial presence on this planet.
Cynthia's vision: To do her part to create a world where there is more Love, Compassion, Integrity & Tolerance for the benefit of future generations.
Words from others :
"Cynthia Ruiz is one of the most well-informed, deeply wise, kind-hearted, and articulate people I have ever met. It was a pure joy interviewing her for my television show Talking About Success. Her ability to share the wisdom she has gained from both her experience as a member of the Cherokee Nation coupled with her years in major leadership roles in government, has given her the ability to profoundly impact an audience. The principles of effective leadership that she has drawn from both of those experiences are right on target and so deeply needed at this time in our history."    Jack Canfield
Others describe her as: Compassionate ,Spiritual , Giving, A Leader,  Encouraging , Outgoing,  Smart , Responsible, Generous, Wise, Loving, Honest, Integrity &  Nurturing
Cynthia has over twenty-five  years of experience teaching and public speaking. Cynthia has authored or co-authored a total of eight books. She is the author of "Finding Sane Relationships in a Crazy World" (English & Spanish) a personal development book and "Cherokee Wisdom- 12 Lessons for becoming a Powerful Leader". She appeared in Discover the Gift (movie/book) with such notables, as is Holiness the Dala Lama, Michael Bernard Beckwith, Jack Canfield and many more.
Her career has placed her in many leadership roles including President of the Board of Public Works for the City of Los Angeles where she had oversight of 5,000 employees and a billion dollar per year budget. She has worked as an Executive at the number one container Port in the US and has successfully run her own business.
Cynthia knows the importance of giving back and always strives to stay humble. As a Latina/Native American woman, she has a passion for women empowerment.
She lives in Los Angeles where she enjoys the diversity of a metropolitan city.