Finding Sane Relationships in a Crazy World (Book available in Spanish on Amazon.com)
In the fast pace of modern life, there is a lot of craziness and stress. We are social creatures and need unconditional love and support to make it through.
The key to finding "sane" relationships in your life is you. You are the common denominator in your relationships. If you are happy, your relationships will be better.
This book gives you the tools to unlock your true potential and clear the way for sane relationships. All rewards in life take work. Isn't your happiness worth the effort?
Through self-evaluation and exercises, the book walks you through the steps necessary to feel happy, whole, and complete. Releasing the obstacles that prevent you from being happy is part of the path to finding sane relationships.
This book discusses all types of relationships including family, work, and significant others. You can make a choice to have positive relationships work for you.
ABOUT CYNTHIA M. RUIZ:
Living life to the fullest and her compassion for people have helped Cynthia rise to the top of her field. Her degrees in counseling have given her the foundation to help people develop their full potential, which she has been doing for over two decades.
Along her life journey, she has developed and evolved
into a true leader. Receiving over 50 accolades and awards for her leadership and service to Los Angeles. She has received the prestigious Hollywood Chamber "Women of Distinction Award, the HOPE "Ray of Hope" award and the Weingart, "Women Building LA Award. Twice the California Apparel News has listed her on their renowned List of Influential People and LA Weekly showcased her in their 2007 people addition.
She appeared in Discover the Gift (movie/book) with such notables, as is Holiness the Dala Lama, Michael Bernard Beckwith, Jack Canfield and many more.
Coming from blended cultures (Latina and Native American), she enjoys a passion for life and an appreciation of the gifts of Mother Nature.
Cynthia knows the importance of giving back and always strives to stay humble. Her Cherokee values have inspired her to teach others the lessons she has learned through her books and workshops.
She lives in Los Angeles where she enjoys the diversity of a metropolitan city.
Cherokee Wisdom-12 Lessons for becoming a Powerful Leader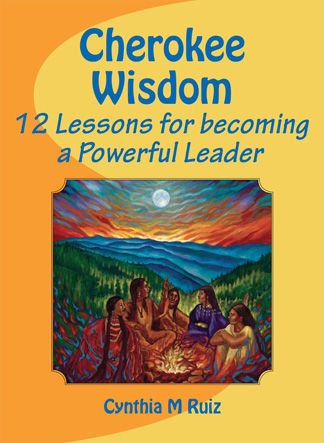 In this her second book Cynthia M Ruiz reveals previously concealed knowledge based on her Cherokee heritage. As a Leadership expert and Inspirational Speaker, she came to the realization that the wisdom she gained from her ancestors was missing today and could not only be applied successfully in the modern world but that it offers a solution to many of today's modern dilemmas.
She believes that each of us has the ability to be leaders in our daily lives and that this ancient wisdom is key in helping to elicit that personal power that all leaders possess. These ancient lessons can also serve to help unlock the individual leadership style of the reader.
An example of one of the leadership lessons: Integrity – a leader should always lead from a place of integrity. Integrity is doing the right thing, even when no one else is looking.
The beautiful artwork on the cover of the book was painted by Los Angeles Artist Juan Solis.
A percentage of the proceeds with be donated to the non-profits which Cynthia works with including Girls Today Women Tomorrow.
" I am grateful for the lessons from my ancestors which have helped me become a better leader today"
Cynthia M Ruiz